Joint Care & Wellness Centre
Joint Care & Wellness Centre at Evercare Hospital Dhaka
Joint Care & Wellness Centre is the first & only super specialty Joint Care & Wellness Centre in Bangladesh, dealing with all knee related problems. Since its inception it has been providing quality services to the patients having knee sufferings by the renowned knee specialist of Bangladesh, Dr. M Ali. He has been performing authoritative practice in this hospital over a decade and has done more than 7,000 knee surgeries here in Evercare Hospital Dhaka.
Thousands of arthroscopic surgeries along with hundreds of total knee replacement have been done over the years in this super specialty center.
Evercare Joint Care & Wellness Centre addresses all your knee related problems associated with trauma, sports injury, arthritis of knee etc. We provide both surgical and non-surgical management of knee condition.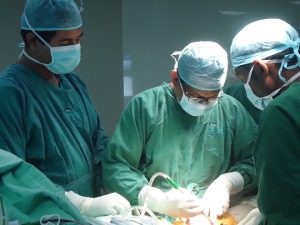 It is an one-stop solution centre providing remedies for all knee related problems. The surgeries we perform include arthroscopic ligament reconstruction, arthroscopic meniscus surgeries, total knee replacement etc.
With highest number of patient satisfaction, we are doing major surgeries with minimum or no complication at all. Here, major surgeries like total knee replacement both unilateral and simultaneous bilateral knee replacement have a success rate of more than anywhere in the country.
Our expert team consisting of veteran Consultant, registers, resident doctors, expert physiotherapist, dedicated nurses and technicians all have been doing efficient pre-operative, per-operative and post-operative care for all patients to ensure the early recovery of the patient with minimum complications.
Evercare Joint Care & Wellness Centre also has been providing the OPD services ensuring proper management of the patient through appropriate clinical evaluation and investigations.
Our services are prompt, and we ensure adequate management of our OPD patients with comfort and satisfaction. We ensure all OPD based service within 24 hours to minimize the patient's sufferings who visit from districts other than the capital.
List of Doctors
We can help you choose top specialists from our pool of expert doctors, physicians and surgeons.
Conditions Treated
A regular reason why people visit the Evercare Joint Care & Wellness Centre is due to knee injuries, especially amongst sportsmen and older adults. Common knee injuries include ligament sprains (ACL injuries), cartilage tears (most often meniscus injuries), overuse injuries, and arthritis.
OUR SERVICES
OPD services with expert Consultant for clinical examination, diagnosis and treatment of knee conditions.
Diagnosis through x-ray, MRI, blood tests, or joint aspiration
Non-surgical treatment through Consultant advice,physiotherapy, medication, injection therapy, etc.
Surgical treatment, from common to complex surgeries, using state-of-the-art equipment and facilities.
KNEE SURGERIES
In patients with severe conditions, knee surgeries are required. At Evercare Joint Care & Wellness Centre, we are performing all kinds of knee related surgeries. These include the following:
Arthroscopic Surgeries (for young patients)
Arthroscopic Reconstruction of ligaments of the injured knee
Arthroscopic Repair or partial resection of injured meniscus of the knee
Arthroscopic retrieval of the osteochondral fragments or loose bodies
Arthroscopic Surgeries (for middle aged patients)
Arthroscopic debridement and lateral releases for arthritic knee
Total Knee replacement |Download brochure on Knee Replacement|
Knee replacement of the grossly arthritic knees (in old patients)
Other Surgeries
Management of fractures around the knee (mini-invasive surgeries called MIS & MIS +C-Arm and arthroscopic aided surgeries)
Open soft tissue repair and reconstruction
Correction of deformities around knee
Cartilage grafting in large cartilage defect
Osteotomy for arthritic knee in middle aged patients (HTO – High Tibial Osteotomy)
REHABILITATION
Patients are provided with specialized rehabilitation services (as needed) pre- and post-surgery through our in-house physiotherapist and are offered comprehensive services and care of the highest quality
JOINT PAIN & ARTHRITIS CHECK
Joint Pain & Arthritis Check, offered by our Master Health Check, is recommended for people over the age of 40 who are experiencing at least some symptoms of arthritis. These symptoms typically become worse as time goes by.
So, if you are experiencing joint pain, Evercare Joint Pain & Arthritis Check is an ideal screening test for you, which will determine if you have arthritis and can then assist you in planning an appropriate treatment program.
Joint Pain & Arthritis Check 
Complete Hemogram & ESR
Blood Sugar: Random
Rheumatoid Factor
Serum Uric Acid
Serum Inorganic Phosphate
Serum Calcium
Serum Creatinine
Serum Alkaline Phosphatase
CRP (C-Reactive Protein)
ASO (Anti Streptolysin O)
Diet Counselling
Physiotherapy Evaluation
Consultation
Note: Single or multiple view x-rays of affected areas may be required as per advice of the respective Consultant.
For more details and appointment for Evercare Joint Pain & Arthritis Check, please contact our Master Health Check desk:
02-8431600
02-8431661 (Ext.-2141)
MHC Services are available from 7:30 am to 4:00 pm, seven days a week.
To view all our Master Health Check packages, click Master Health Check.
IMPORTANT POINTS ABOUT TESTS/PROCEDURES/SURGERIES, YOUR REPORTS & BILLING ENQUIRIES
Tests/Investigations:

To schedule a test/investigation, please call the relevant OPD front desks.
Your lab investigation samples are to be deposited in the Sample Collection Room located in the hospital's atrium, which is open on working days (Saturday-Thursday) from 7.00 am to 10:00 pm, and on Fridays and holidays from 7.00 am to 3.00 pm.
Your investigation reports can be collected from Report Delivery Room by showing the receipt of payment. The hospital shall not be responsible for reports not collected within 30 days after the tests were done. Report Delivery Room is also located in the hospital's atrium, and is open on working days (Saturday-Thursday) from 8.00 am to 8.30 pm, and on Fridays and holidays from 9.00 am to 5.00 pm.
You will not be able to collect your investigation reports without your receipt of payment. If you have lost your receipt, you may collect a duplicate copy from our Billing Executives (Corporate Desk, Atrium – level 1).
You can request duplicate copy of your investigation reports from the Report Delivery Room, inclusive of BDT 100 additional charge.
Procedures & Surgeries:

If you are interested in undergoing a procedure or surgery, please see our relevant Consultant first.
To search for a Consultant, go to Find a Consultant page and for appointments, go to Make an Appointment
In-patient Reports

A Discharge Summary is provided to a patient upon his/her discharge from the hospital. A discharge summary is a summary of the events during hospitalization of the patient. It outlines the patient's chief complaint, the diagnostic findings, the therapy administered and the patient's response to it, and recommendations on discharge.
To request for detailed in-patient medical reports or to make an insurance claim, refer to our Medical Report
For queries on charges, contact our Billing Department (Corporate Desk, Atrium – level 1) or call/e-mail our Billing Executives:
Mr. Taslimur Rahman:
AGM – Financial Operation
Phone : +88-02-8431661-5; Ext-1353
(From 9 am to 5 pm –Except Holidays)
E-mail: taslimur.rahman@evercarebd.com