Physical Medicine & Rehabilitation
Physical Medicine & Rehabilitation Centre at Evercare Hospital Dhaka
Located in the basement level of the hospital, Physical Medicine & Rehabilitation is an established center with well-equipped facilities and qualified consultant, physiotherapists and occupational therapists, working as a team to provide holistic and integrated rehabilitation services. The primary goal of this center is to provide specialized, comprehensive and evidence-based rehabilitative services of the highest quality to patients. It is a unique center and probably the only one of its kind in Bangladesh.
Physical Medicine & Rehabilitation Centre helps patients regain the most independent level of functioning after severe injury, trauma, and illness. Our services are not only aimed at a particular condition or disability, but are coordinated to address the total well-being of the individual and needs of the family and caregivers. Through individual and group therapy sessions, our therapists utilize their professional knowledge, therapeutic skills and resources to address various needs of patients ranging from children to elderly with supervision of a Rehabilitation consultant. In addition to providing rehabilitative services, we also provide educational talks to organizations and the public.
List of Doctors
We can help you choose top specialists from our pool of expert doctors, physicians and surgeons.
Conditions Treated
The Centre is dedicated to Rehabilitation Doctor's Consultation, Physiotherapy, Occupational Therapy, Speech Therapy and Rehabilitation Nursing. It has a full time Physical Medicine & Rehabilitation Consultant, Dr. Md. Mohiuddin Araf, trained in advanced pain management & Neuro-rehab from England.
The Consultant provides direct care to patients and supervises therapists, ensuring that all patients receive an exceptional level of treatment. We utilize modern therapeutic facilities from leading companies in the field of physiotherapy, which provides directness and efficiency in our treatments, and ensure the safety of our patients.
The Physical Medicine & Rehabilitation Centre provides a range of services for its patients:
Pain Management (back pain, neck pain, etc.)
Interventional procedure for pain management like – Intra-articular / Epidural Injections etc.
Botulinum Toxin (BOTOX) Clinic for different neurological disorders and cerebral palsy patients
Comprehensive Neuro-rehabilitation
Cardio-pulmonary Rehabilitation
Sports Medicine and Orthopedic Rehabilitation
Pediatric Rehabilitation
Geriatric Rehabilitation
Obstetrics and Gynecology Rehabilitation (pre- & post- natal)
COMPREHENSIVE IN-PATIENT REHABILITATION PROGRAM
Rehabilitation Centre is capable of caring for patients with a wide range of diagnoses, including:
Stroke
Traumatic / Non – traumatic Brain injury
Neurological Disorders – like GBS, ADEM, MS and Myopathies
Spinal-Cord Injuries Traumatic and Non-Traumatic
Complex orthopedic Conditions (Post surgery, Traumatic)
Cerebral Palsy (Pediatric and Adult)
Limb Amputations
As a dedicated rehabilitation facility, Rehabilitation Centre does not treat or admit patients who requires ventilator assistance, medically unstable and will not significantly benefit from rehab program.
DOCTOR'S APPOINTMENTS
Patients can make appointments for consultation or for availing rehabilitation services:
The centre offers dynamic consultation services specialising in musculo-skeletal conditions. We have qualified Consultant for patients suffering from simple low back pain, neck pain to complex post-stroke conditions. Physically challenged patients, e.g. adults and children with cerebral palsy, chronic disabling conditions and chronic pain syndromes, are also cared for in our clinic. Our Consultant carefully evaluates each patient, discuses available treatment options, and recommends the most effective treatment.

For Doctor's consultation and Rehabilitation Services:
To make appointment for our Physiotherapy therapy and Occupational therapy services, please contact us:
Physical Medicine & Rehabilitation Centre
Evercare Hospital Dhaka
Phone: (02)-8431661, Ext – 2159
E-mail: mmaraf@evercarebd.com
PHYSIOTHERAPY
Physiotherapy is a health care profession which uses physical therapeutic means and exercises to ensure maximum recovery and early independence of patients. The treatment of the patient is usually prescribed to relieve pain, restore normal function and strength, prevent further injury, and promote healthy living and lifestyles.
Our physiotherapists are all highly qualified with years of training, working closely with consultants and specialists to ensure that patients receive a highly focused course of treatment and care tailored to their individual needs. Our holistic approach means we take the time to understand the patient's condition, home-living situation and work environment, so that the best treatment and advice can be given. In addition to devising and implementing orthopedic rehabilitation program our physiotherapists are highly experienced in sports injuries.There is a range of Physiotherapy services offered in the Physical Medicine & Rehabilitation Centre. We have specialized program like pelvic floor exercise, cardiac & pulmonary rehabilitation, Back-To-Fitness (Back, Neck and Shoulder Strengthening), and lymphedema management.
We have wide range of World renowned classed Electrotherapy instruments (ENRAF-NONIUS) for Pain management like – SWD, MWD, IFT (Interferential therapy), TENS, EMG Biofeedback, LASER, Automated Cervical and Lumbar Traction, WAX therapy etc.
Specialized Program
Musculoskeletal & Sport Injury Rehabilitation
Management: A musculoskeletal rehabilitation program is a doctor-supervised program designed for people with impairments or disabilities due to disease, disorders, or trauma to the muscles or bones. Musculoskeletal rehabilitation programs can often improve functional capacity, reduce symptoms, and improve the well-being of the patient. musculoskeletal rehabilitation may include, but are not limited to, the following:
Back and Neck Pain
Joint Pain like –Knee, Shoulder and Ankle pain
Osteoporosis
Arthritis
Repetitive stress injuries, such as tendonitis and carpal tunnel syndrome
Tendon tears, such as Achilles tendon injuries and tears of the rotator cuff in the shoulder
Trauma injuries, such as sprains, strains, joint dislocations, and fractures
Joint injury and replacement
Amputation
Neuro-Rehabilitation:
Neuro-rehabilitation is a type of services given to people who have suffered from brain injuries and other neurological disorders such as Stroke, Spinal cord Injury, Parkinson's and many neuro-muscular disorders. This treatment is based on the idea that healthy sections of the brain can be trained to take over for areas that have been damaged or destroyed. Though the damaged portions of the brain cannot be repaired, in many cases, patients are able to retrain themselves to function the way they did before the injury. Patients who undergo neuro-rehabilitation may also learn adaptive strategies to compensate for abilities that cannot be completely restored.
Cardiac & Pulmonary Rehabilitation Program:
The Cardiac and Pulmonary Rehabilitation program is one of the oldest and most established program targeting clients after heart/lung surgery and interventions with the primary aim to help the clients achieve their optimal health status both physically and psychologically. This program also includes education, and advises on the control of body weight, diet and stress, with the aim of lifestyle modification to reduce the risk of heart and lung disease.
Back-To-Fitness (Back, Neck and Shoulder Strengthening Program):
This program is targeted at patients and other normal individual with back pain and other office related injuries and fatigability.
Functional Capacity Evaluation:
A functional capacity evaluation (FCE) evaluates an individual's capacity to perform work activities related to his or her participation in employment. The FCE process compares the individual's health status and body functions and structures to the demands of the job and the work environment.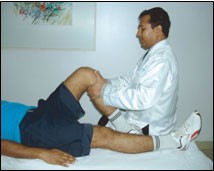 OCCUPATIONAL THERAPY
The center offers Occupational Therapy, which is a health care profession dedicated to helping people with physical, psychological and social problems in order to enhance and restore their functional ability.
The aim of Occupational Therapy is to allow those who are temporarily or permanently disabled to be as independent as possible in areas such as personal and domestic activities of daily living, i.e. washing, dressing, feeding etc. Occupational Therapy is used to teach special ways of doing everyday things, including the provision of aids and equipment if needed. Occupational Therapists at Evercare Hospital Dhaka plan courses of treatment, which are individually tailored to the needs of patients and their families or careers.
We work with individuals having neurological and orthopedic conditions, hand and myofacial pain, childhood and development disorders, and mental health disorders. Occupational Therapy is offered to both in-patients and out-patients in the following areas:
Hand and Myofacial Therapy
Rehabilitating patients with upper limb injuries (e.g. fractures, nerve compressions, etc.) to increase functional use of their hands.
Providing splints and other assistive devices/ equipments to protect the hand, as well as facilitating hand functions.
Assessing and improving worker's ability to return to work, as well as work site visits.
Managing soft tissue pain and tension headaches through Trigger Point Therapy.
Providing ergonomic assessment and consultations.
In Neurology and Orthopaedics
Providing neuro-muscular facilitation and inhibition to gain the desired corrective movement of the affected parts of the body
Minimizing the adverse effect of neuromuscular dysfunction on activities of daily life.
Retraining patients with neurological disorders and orthopaedic conditions (e.g. stroke, lower-limb amputations, etc.) in performing daily activities
Retraining cognitive and perceptual functions (e.g. concentration/attention span, problem-solving skills, etc.)
Providing education and training for patients' caregivers
Conducting home visits and providing recommendations for adaptations
In Paediatrics
Addressing delayed developmental milestones in children
Treating children with congenital and developmental conditions for them to cope and have necessary skills to learn and play.
Conducting parent education groups to increase understanding in topics of interest, such as "sensory integration" and "floor time".
Mental Health
Rehabilitating persons with mental health concerns to improve their functional status in daily living
Providing training on Life Skills
Providing stress management assessment and training Conducting vocational training and social skills group.
SPEECH THERAPY
Speech and Language Therapy involves assessment, assistance with diagnosis and treatment of human communication and swallowing disorders. Human communication disorders include impairments in speech, language, voice, fluency, communication. Swallowing disorder includes food manipulation within the mouth and proper swallowing.
Speech and language therapists works with the patients who has the following conditions, such as in adult– post stroke, head injury, motor neuron disease, dementia, Alzheimer's disease, parkinson's disease, swallowing difficulties /dysphagia, cleft-lip and palate, dyslexia. In pediatric – Cerebral palsy, speech delay/disorder, language delay/disorder, articulation and phonological disorder, saliva management, Autism Spectrum Disorder, Attention Deficit, Down's Syndrome, children with eating and drinking difficulties, stammering.
PSYCHO-SOCIAL COUNCELLING
Rehabilitating persons with mental health concerns to improve their functional status in daily living
Providing training on Life Skills
Providing stress management assessment and training Conducting vocational training and social skills group.
ORTHOSIS AND PROTHESIS
An orthosis is a brace made to correct or support a deformity or deficiency of your patient's body. Prosthesis is an artificial limb utilized when a person has a limb deficiency. They are the member of rehabilitation treatment team and the team works together to provide optimal care to the patient comprehensively.
PUBLIC HEALTH EDUCATION
Our services also include the promotion of healthy lifestyles through patient and public education talks. We provide teaching on the following topics:
Back Care
Office / Workplace Ergonomic / Wellness Assessments
Injury Prevention
ADL care an Training
Public Talks covering a wide spectrum of topics
IMPORTANT POINTS ABOUT TESTS/PROCEDURES/SURGERIES, YOUR REPORTS & BILLING ENQUIRIES
Tests/Investigations:

To schedule a test/investigation, please call the relevant OPD front desks.
Your lab investigation samples are to be deposited in the Sample Collection Room located in the hospital's atrium, which is open on working days (Saturday-Thursday) from 7.00 am to 10:00 pm, and on Fridays and holidays from 7.00 am to 3.00 pm.
Your investigation reports can be collected from Report Delivery Room by showing the receipt of payment. The hospital shall not be responsible for reports not collected within 30 days after the tests were done. Report Delivery Room is also located in the hospital's atrium, and is open on working days (Saturday-Thursday) from 8.00 am to 8.30 pm, and on Fridays and holidays from 9.00 am to 5.00 pm.
You will not be able to collect your investigation reports without your receipt of payment. If you have lost your receipt, you may collect a duplicate copy from our Billing Executives (Corporate Desk, Atrium – level 1).
You can request duplicate copy of your investigation reports from the Report Delivery Room, inclusive of BDT 100 additional charge.
Procedures & Surgeries:

If you are interested in undergoing a procedure or surgery, please see our relevant Consultant first.
To search for a Consultant, go to Find a Consultant page and for appointments, go to Make an Appointment
In-patient Reports

A Discharge Summary is provided to a patient upon his/her discharge from the hospital. A discharge summary is a summary of the events during hospitalization of the patient. It outlines the patient's chief complaint, the diagnostic findings, the therapy administered and the patient's response to it, and recommendations on discharge.
To request for detailed in-patient medical reports or to make an insurance claim, refer to our Medical Report
For queries on charges, contact our Billing Department (Corporate Desk, Atrium – level 1) or call/e-mail our Billing Executives:
Mr. Taslimur Rahman:
AGM – Financial Operation
Phone : +88-02-8431661-5; Ext-1353
(From 9 am to 5 pm –Except Holidays)
E-mail: taslimur.rahman@evercarebd.com