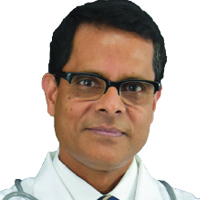 Dr. Mrinal Kumar Sarker, MBBS, DGO, FCPS
Senior Consultant
Department: Obstetrics and Gynaecology
• He obtained his MBBS from Dhaka University, completed DGO from the same university and obtained FCPS (OBS/GYNAE) from BCPS.
• He has served as a Consultant and Teacher in different Medical College and Hospitals of the country. Furthermore, he worked as a fellow in the Centre for Assisted Reproduction CARE of Singapore General Hospital.
• He also worked as a Fellow in Reproductive Medicine in KKIVF Centre, Singapore. He developed his skill in modern Infertility management and Assisted Reproductive techniques (IVF & related procedures). Other than Infertility management, he has expertise in managing all sorts of Obstetrical and gynecological problems.
• Dr. Mrinal and his world-class team helped many infertile couples to have babies through Assisted Reproductive technology of International Standard.