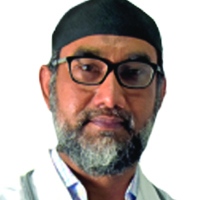 Dr. Md. Zulfiqur Haider, MBBS, MS (Cardiothoracic & Vascular Surgery)
Senior Consultant
Department: Cardiothoracic & Vascular Surgery
• He obtained his MBBS from Sir Salimullah Medical Collage and Mitford Hospital in 1993.
• He obtained MS in Cardio Vascular & Thoracic Surgery from the National Institute of Cardio Vascular Diseases (NICVD), Dhaka in 2002. After which, he served in multiple government institutes. He was also a Consultant in the National Heart Foundation Hospital & Research Institute, Dhaka.
• He is highly skilled and experienced in the treatment of complex coronary artery diseases, aneurysms, valvular heart diseases, and paediatric cardiac cases.
• He has specialized training in Vascular and Thoracic surgeries, having performed over 4000 successful open heart surgeries. He is the choice doctor for Heart Failure Surgery, Minimally Invasive Cardiac Surgery.