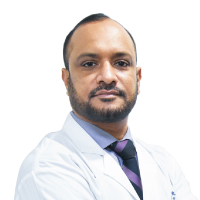 Dr. Mohammed Mohiuddin Araf, MBBS (India), MD (AIIMS, India)
Coordinator & Senior Consultant
Department: Physical Medicine & Rehabilitation
• Obtained his MBBS from India and received his MD from the All India Institute of Medical Services in New Delhi.
• Trained in Advanced Pain Management and Neuro-Rehabilitation from the University of Newcastle in the UK.
• Specialized in treating acute and chronic pain syndromes such as back-pain, neck-pain, shoulder pain and pain form work related injuries.
• He is the choice doctor for Comprehensive Sports Rehabilitation and Neuro-rehabilitation services, especially patients suffering from sports injuries, spinal cord injury, and post stroke rehabilitation.
• He is an expert in Paediatric rehabilitation for children diagnosed with conditions such as cerebral palsy and epilepsy. In addition he provides Botulinum Toxin Injection (Botox) to treat advanced movement disorders.