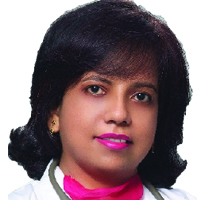 Prof. Dr. Hafeza Aftab (Rosy), MBBS, MD (Gastroenterology)
Senior Consultant
Department: Gastroenterology & Hepatology
Dr. Hafeza Aftab is the first female Interventional Gastroenterologist in Bangladesh.

She is working for more than 25 years in the field of Gastroenterology and Hepatology.

She obtained first MD in Gastroenterology from Bangabandhu Sheikh Mujib Medical University (BSMMU). Later she obtained Ph.D from Japan.

Government of Japan awarded her scholarship for advanced endoscopic training in Kyorin University Hospital, Tokyo

Dr. Hafeza also received training from renowned Asian Institute of Gastroenterology, Hyderabad (India).

She has performed more than 70,000 Upper GI Endoscopy and 15,000 Diagnostic Colonoscopy including therapeutic works (Polypectomy, Band Ligation, Hemostasis, Balloon Dilatation, Stenting, Pea) and ERCP, EUS.

Dr. Hafeza is equally expert in modern treatment for Liver Cirrhosis, Fatty Liver, Hepatitis B, Hepatitis C, Liver Cancer, Pancreatic Disease etc.

As Professor an Head, Department of Gastroenterlogy Dhaka Medical College she was also involved in postgraduate teaching, training and research activities. Dr. Hafeza has number of scientific publications in local and international journals.