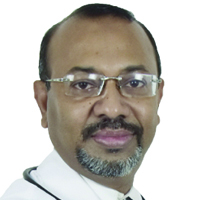 Dr. Ahsanul Haq Amin , MBBS, MD (Endocrinology & Metabolism)
Senior Consultant
Department: Diabetology & Endocrinology
Dr. Ahsanul Haq Amin obtained his graduation from Mymensingh Medical College and completed MD in Endocrinology and Metabolism from BIRDEM Academy. Later on, he earned his Fellowship from American Association of Clinical Endocrinology.

In his career, he worked for different institutions like ICDDRB, Dhaka Medical College, BIRDEM Hospitals etc. He has received advanced training in Endocrine Update from Singapore.

Dr. Ahsanul Haq Amin is an expert on Diabetology, Thyroidology and Hormone related treatments. He was a member of the core committee which developed the "Bangladesh Insulin Guideline (premix) for Type-2 Diabetes Mellitus" formulated by Bangladesh Endocrine Society.

He was Associate Professor and Head of the Department of Endocrinology at Bangladesh Medical College prior to joining Evercare Hospital Dhaka.