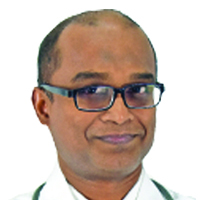 Dr. Sohail Ahmed, MBBS, MCPS (Surgery), MS (Cardiothoracic & Vascular Surgery)
Coordinator & Senior Consultant
Department: Cardiothoracic & Vascular Surgery
Obtained his MBBS from Sir Salimullah Medical College in Dhaka. After which he joined Dhaka Medical College for surgical training in multiple disciplines of surgery. There he received his MCPS (Surgery) and MS (Cardiothoracic and Vascular Surgery).

He is the choice doctor for Minimal Invasive Cardiac Surgery, Heart Valve Repair, and Endoscopic Vein harvesting as he received specialized training from the National University Hospital in Singapore.

He became an Assistant Professor of Cardiovascular Diseases at the National Institute of Cardiovascular Diseases. After which, he became a Consultant and Assistant Professor in the National Heart Foundation Hospital and Research Institute.

Worked at renowned hospitals in India including Apollo Hospital Chennai (alongside renowned surgeon Dr. M. R. Girinath), Narayan Hrudayalaya Hospitals.