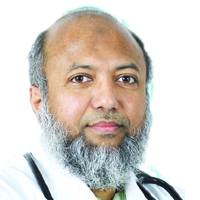 Dr. M. Quamrul Hassan, MBBS, FCPS (Paediatrics)
Senior Consultant
Department: Paediatrics
• The most renowned child health specialist in the country, practising paediatrics for last 25 years.
• He obtained his MBBS from Chittagong Medical College; then completed his FCPS in Paediatrics, respectively from the then IPGMR and BCPS.
• Before joining Evercare Hospital Dhaka, he has contributed a lot to the establishment of the Institute of Child & Mother Health (ICMH), and served there for 11 years as Registrar, Consultant of Paediatrics, and an Assistant Professor.
• He has received trainings from home and abroad, including ICH and Hammersmith Hospital of London and Aga Khan University of Karachi. His trainings also include paediatric emergency care and intensive care.
• He has made contributions to various national child health programmes. As a trainer, he has developed numerous training modules, coordinated many training programmes and trained many professionals in child health.
• He is a researcher in the fields of child health, child nutrition, new-born care and early childhood development, and has been awarded the 2005 Young Researcher Award by BPPF. • He has special interest in paediatric chest diseases, asthma and allergy, paediatric ENT problems, new-born care, early childhood development, child nutrition, paediatric emergency, and intensive care.