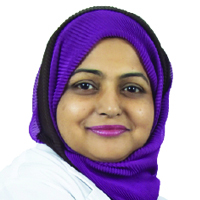 Dr. Farzana Islam, M.B.B.S (DMC), Diploma in Child Health (DU),MCPS (BCPS).
Specialist and Head
Department: Child Development Centre
Paediatrician specialized in Child and Adolescent Mental health with 15 years of clinical experience in Child Development and Neurology.

Graduated from Dhaka Medical College in 1990; Diploma in Child Health from (DU) and MCPS in Paediatrics from Bangladesh College of Physicians and Surgeons in 2003. Obtained her MSc in Child & Adolescent Mental Health in 2009 from the Institute of Psychiatry, Kings College, London, UK.

She is an advanced level trainee of Psychotherapy in Certification in Transactional Analysis (TA) and Eye Movement Desensitization and Reprocessing (EMDR). Obtained Diploma in Counselling in TA in 2011.

Running specialized clinics with Child Psychologist and Child Development Therapist in a multidisciplinary team at CDC- Neurodevelopmental assessment, Psychological assessment, Systematic therapeutic intervention for Autism, ADHD, Cerebral Palsy, Learning disability, Speech, Language and Communication clinic, Behaviour modification and Positive Parenting programs with schools/ institutions and counselling and Psycho-therapy clinics for children, adolescent and their parents.