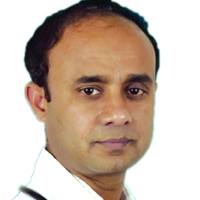 Dr. Md. Aliuzzaman Joarder, MBBS, MS (Neurosurgery)
Senior Consultant
Department: Neurosurgery
Dr. Md. Aliuzzaman Joarder completed his MBBS degree and then he finished MS in Neurosurgery from Bangabandhu Sheik Mujib Medical University and joined Apollo Hospitals Dhaka. Now he is working as a consultant.
He did observership training in Neurosurgery at Mayo Clinic, Rochester, Minnesota, USA in 2011 and in 2013 he was selected for Fellowship in Neurosurgery from NYULMC (Belle Vue Hospital), USA. He completed WFNS-Aesculap Fellowship in Adult Neurosurgery from Germany.
Training on Stereotactic Neurosurgery from Netherland & USA.
He is trained in Neurosurgery from many reputed medical institutions in Bangladesh like BSMMU, Dhaka Medical College.
First ever successful awake brain surgery done by Dr. Aliuzzaman.
He has performed more than 2,000 brain and spine Surgery during his career in Neurosurgery.
He is a member of Bangladesh Society of Neurosurgeons, Bangladesh medical association and Bangladesh Soceity of Spine Surgeons.