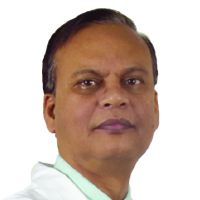 Prof. (Dr.) S. M. Abu Zafar , MBBS, FRCS
Coordinator & Senior Consultant
Department: General & Lap Surgery
Professor Sheikh Mohammad Abu Zafar was Head of the Department of Surgery at BIRDEM General Hospital and Ibrahim Medical College, he served at this hospital in different capacities for the last 18 years prior to joining Evercare Hospital Dhaka

At BIRDEM Hospital, he achieved unique experience in the management of surgical patients with Diabetes, Endocrine and Metabolic Disorders.

He was trained in Ireland, Saudi Arabia, India and Japan in the field of Laparoscopic surgery, gastrointestinal malignancy, Hepatobiliary, Pancreatic surgery and Liver Transplant. He was associated with a group of eminent Gastroenterologists of the country and involved in developing and performing surgery for upper gastrointestinal bleeding due to portal hypertension, gastrointestinal malignancy, hepatobiliary, pancreatic surgery and liver transplant.

He is doing General surgical Procedures like Breast surgery Anal and Perianal conditions (Piles, Fissure and Fistula) Incisional and Inguinal hernia etc.

He has 23 years vast experience in laparoscopic surgery especially laparoscopic Cholecystectomy, Appendectomy, Diagnostic Laparoscopy, Sleeve gastrectomy, Adrenalectomy, Colectomy, Inguinal and Ventral hernia repair.

Professor Sheikh Mohammad Abu Zafar is the pioneer in the field of Bariatric and Metabolic surgery in this country. So far he has successfully performed more than 50 laparoscopic sleeve gastrectomies (Surgery for weight reduction).