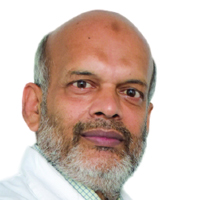 Brig. Gen. (Retd) Prof. Dr. Md. Sayedur Rahman , MBBS, DO, FCPS, MCPS
Coordinator & Senior Consultant
Department: Ophthalmology
An International Council (UK) & BCPS Fellow.

An experienced surgeon on Glaucoma (USA), Phaco and Oculoplastic (BD) surgery.

Brigadier General Professor Dr. Md. Sayedur Rahman was one of the renowned Phaco, Glaucoma and Oculoplastic Surgeons of the Bangladesh Army. He was Specialist Advisor (Eye) of Combined Military Hospital (CMH) and Head of the Eye Department, Armed Forces Medical College and Kurmitola General Hospital. During his 35 years in the profession, he served in various positions as an Eye Specialist and Captain in various military hospitals such as Bangladesh Army, Border Guard Hospital, Bangladesh Air Force.

He completed his MBBS from Sher-e-Bangla Medical College in 1984. He then earned his Fellowship from International Council of Ophthalmology (ICO) in 1990 and Diploma in Ophthalmology from Dhaka University in 1993. He completed MCPS (Eye) in 1992 and FCPS (Eye) in 2000 from Bangladesh College of Physicians and Surgeons (BCPS). He has received specialized trainings in Phaco Surgery and Glaucoma from Malaysia and USA (Mount Sinai Hospital).

Professor Sayedur is a highly skilled Phaco, Glaucoma, Squint, Orbital and Oculoplastic surgeon. Till date, he has successfully accomplished more than 7,000 Phaco Surgeries.

He achieved 'Mother Teresa Gold Medal' 2017 for his contribution in the medical sector.