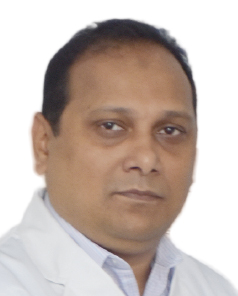 Dr. K.F.M. Ayaz, MBBS, M.Sc. MD (Internal Medicine)
Senior Consultant
Department: Internal Medicine
• Dr. K.F.M Ayaz is a specialist in Internal Medicine who completed his MBBS in 1998, Masters in Biomedicine from Linkoping University, Sweden in 2003 and MD in Internal Medicine from Dhaka University in 2010. He became a Fellow of the American College of Physicians in 2017.
• For the Last seven years, he had been working as Assistant Professor in the Department of Medicine of Dhaka Medical College before being promoted as Associate Professor.
• During his tenure at Dhaka Medical College, he had worked at the Department of Medicine and was associated with establishing the first Geriatric ward and Rheumatology OPD Clinic in DMCH. Dr. Ayaz was part of the team that developed the Chikungunya management guideline for Bangladesh Society of Medicine. Conducted a number of funded Clinical researches on Rheumatology and infectious disease.
• He is currently the General Secretary of the Hepatitis and Viral Infection Working group of International Society of Chemotherapy and Infection and a member of the Governors Advisory Council of the American College of Physician's Bangladesh Chapter. He is a life time member of Bangladesh Society of Medicine, a member of Asia Pacific Association of Medical Toxicology and Toxicological Society of Bangladesh. He was the assistant editor of the Journal of medicine for three terms and currently a member of the editorial board. Dr. Ayaz has attended and presented scientific papers in numerous National and international Seminars.
• Apart from all fields of Internal Medicine, he has a special interest in Infectious Disease, Rheumatology and Geriatric Medicine.