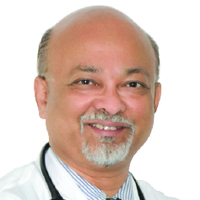 Dr. Ferdous Shahriar Sayed, MBBS, MD (Radiotherapy)
Senior Consultant & Coordinator
Department: Medical Oncology
Dr. Ferdous Shahriar Sayed graduated from Sir Salimullah Medical College, Dhaka. He joined National Institute of Cancer Research & Hospital (NICRH) as Assistant Registrar of Medical Oncology.

Dr. Sayed obtained MD in Radiotherapy in January 2005 from BSMMU. During his residential study period, Dr. Sayed was extensively trained on both the fields of Medical and Radiation Oncology.

In 2006, he obtained basic certification in Palliative Medicine from IPM (Institute of Palliative Medicine), Calicut, Kerala, India and received advanced clinical training in Medical Oncology at National Cancer Centre (NCC), Singapore in 2009.

He became Assistant Professor of Medical Oncology at NICRH in 2008 and joined as Consultant of Medical Oncology at United Hospital, Dhaka in 2010 where he worked for more than 7 years. Dr. Sayed specializes in the fields of chemotherapy, hormone therapy, targeted therapy, immunotherapy, palliative medicine and the management of therapy related adverse effects.