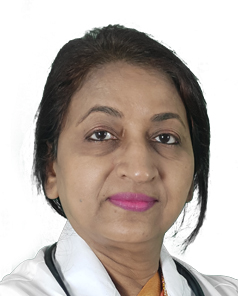 Prof. Dr. Rowshne Jahan, MBBS (DMC), DTCD (DU), MD (Chest)
Coordinator & Senior Consultant
Department: Respiratory Medicine
Prof. Dr. Rowshne Jahan completed her MBBS from Dhaka Medical College, followed by her MD and DTCD from University of Dhaka.
A prominent physician in respiratory medicine in Bangladesh, she is the first female Interventional Pulmonologist in Bangladesh who has done more than 75,000 Flexible Fiberoptic Bronchoscopy (FOB) since 2009.
She has worked under the ministry of Health & Family Welfare for more than 30 years. Lastly, she worked there as professor of Respiratory Medicine. Before joining Evercare Hospital Dhaka, she was practicing in Japan Bangladesh Friendship Hospital for more than 12 years.
She is an expert in managing patients of bronchial asthma with or without complications, COPD, pneumonia, DPLD, tuberculosis & MDR-TB/ lymph node TB, occupational diseases in relation with respiratory system, unexplained respiratory symptoms like cough / sob / hemoptysis and Covid-19 pneumonia & post-COVID complications and well oriented with Pulmonary Rehab program.
She has up-to-date knowledge with vast experiences in respiratory medicine and is well connected with national & international organizations like APSR (Asian Pacific Society of Respiralogy), ERS (European Respiratory Society), ATS (American Thoracis Society) and APCC (American College of Chest Physicians).