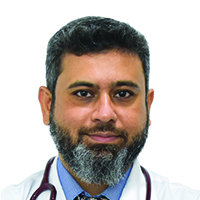 Dr. Arman Reza Chowdhury, MBBS, FCPS (Radiotherapy), UICC Fellow Trained in TATA Memorial Hospital, Mumbai, India & Guy's Cancer Centre, London, UK
Consultant
Department: Radiation Oncology
Dr. Arman Reza Chowdhury completed his MBBS from Rangpur Medical College followed by an FCPS in Radiotherapy.
He was awarded UICC ICRETT Fellowship Training at TATA I Memorial Hospital, Indio. Dr. Arman is trained in Radiation Oncology from TMH, Mumbai, India; He also did a short-term fellowship training at the Radiation Oncology Department of FORTIS Memoria I Research Institute, India.
Prior to joining Evercare Hospital Dhaka Dr. Arman was working at Delta Hospital Limited, Dhaka as a Consultant in the Department of Oncology. He has also been working as Assistant Professor at the Department of Radiotherapy, Delta Medical College.
Dr. Arman Reza Chowdhury has several publications in numerous Journals.
He is a life member of UICC; member of ESMO, ASCO, ESTRO; executive member of ACOS; Assistant International Relationship Secretary of ONCOLOGY CLUB, Bangladesh. He is also a Faculty at BCPS and Office Secretary at the Bangladesh Society of Breast Cancer Study.