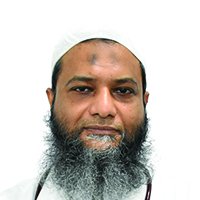 Dr. S.M. Hasan Shahriar, MBBS, MRCP (UK)
Senior Consultant
Department: Neurology
• Dr. S.M. Hasan Shahriar completed his MBBS from Bangladesh Medical College under the University of Dhaka. He then obtained MRCP (UK) from the Royal College of Physicians of the U.K. and subsequently achieved MRCP (UK) Speciality Certificate Examination (SCE) in Neurology from the Federation of Royal College of Physicians of the U.K. and the Association of British Neurologists.
• He has more than 15 years of experience in Neurology through his sincere efforts, academic activities and honest devotion. He has a special interest in Stroke and Neuro Muscular disorders. Dr. Shahriar has established Acute Stroke Centre and Thrombolysis in United Hospital Dhaka.
• Dr. S.M. Hasan Shahriar obtained Specialty training in Clinical Neuro Electrophysiology (NCS & EMG). He has attended many courses, workshops and seminars at home and abroad.
• He has worked in reputed institutions like Bangladesh Medical College, Apollo Hospitals Dhaka, The Hillingdon Hospital, Uxbridge, UK and Sheikh Fazilutannessa Mujib Memorial KPJ Specialized Hospital. He was a core member of the Neurology team in Apollo Hospitals Dhaka for nine years.
• Prior to joining Evercare Hospital Dhaka, Dr. S.M. Hasan Shahriar was serving at United Hospital Limited, Dhaka as a Consultant Neurologist for 5 years.