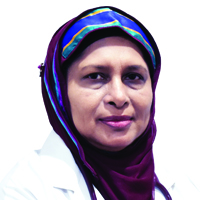 Prof. Dr. Shaila Perveen, MBBS (SSMC), MCPS, FCPS (Med), FRCP(Glasg)
Senior Consultant
Department: Gastroenterology & Hepatology
• Prof. Dr. Shaila Perveen completed her MBBS from Sir Salimullah Medical College followed by MCPS & FCPS in Medicine. She also attained her FRCP from the Royal College of Physicians & Surgeons (RCPS, G), Glasgow.
• She has over 30 years of clinical experience as a practising physician.
• Prof. Dr. Shaila Perveen has 25 years of experience as a Classified Medicine Specialist and Gastroenterologist at CMH, Dhaka and other hospitals. She has been performing Endoscopic procedures since 1995.
• She is a specialist in Internal Medicine and Interventional Gastroenterology with a special interest in Therapeutic Endoscopic Ultrasound (EUS).
• Prof. Dr. Shaila Perveen is trained in Internal Medicine and Gastroenterology from highly reputed institutions at Singapore (Tan Tock Seng) and India (Mumbai & Meerut).
• She has several publications in various national and international journals. Dr. Shaila has also attended many scientific seminars as a paper presenter, chief guest, chairperson and panelist.
• She is a life member of Bangladesh Gastroenterology Society (BGA), Association of Physicians Bangladesh (APB), Bangladesh Society of Medicine (BSM) and Bangladesh College of Physicians and Surgeons (BCPS). She is also serving as a faculty in BCPS.
• Prof. Dr. Shaila Perveen is skilled in managing all medical problems as an Internal Medicine Specialist.