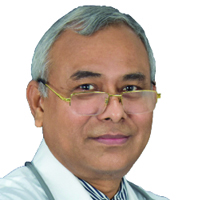 Professor (Dr) M. Istiaque Hossain, MBBS (DMC), DCH (Scotland), MRCP (UK), FRCP (Edinburgh)
Senior Consultant
Department: Paediatrics
Has over 35 years of experience in Paediatrics and Child Health and is pioneer of the Mobile Blood Transfusion System and Breast Milk Bank in Bangladesh.

Obtained his MBBS from Dhaka Medical College.

He was working in Saudi Arabia where he worked as a Child Specialist for 12 years at the Suleimaniah Children's Hospital and King Salman Biz Abdul Aziz Hospital.

He received specialized training in Paediatrics at the Royal Hospital for Sick Children in Edinburgh and Glasgow, where he is an elected diplomat in child health. He earned his MRCP from the Royal College of Physicians (London, Edinburgh & Glasgow) and FRCP from the Royal College of Physicians, Edinburgh, UK. He qualified in the Equivalence Examination for Saudi Board / PHD in Paediatrics.

He began his career at PG Hospital and Institution of Post Graduate Medicine and Research Dhaka and later in life before joining Evercare Hospital Dhaka he was professor and Head of Department of Paediatrics and Neonatology at Holy Family Red Crescent Medical College and Hospital Dhaka.