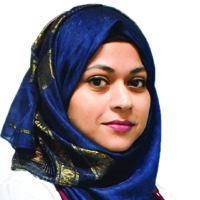 Dr. Fahmida Zabeen, MBBS, MD (Paediatrics)
Senior Consultant
Department: Neonatology
Dr. Fahmida Zabeen has about 20 years experience in the field of Paediatrics & Neonatology. She completed her MBBS from Jahurul Islam Medical college & Hospital, Kishoregonj under the University of Dhaka.
Dr. Zabeen has an outstanding academic career. Pursuing her interest in research, she has been an active study physician in major projects under The World Health Organization (WHO).
She obtained her post graduation degree MD in General Paediatrics from Dhaka Shishu Hospital. Before that, she underwent extensive training in different branches of Paediatrics in the same institute.
Dr. Fahmida has special interest in Paediatric Endocrinology, which is one of the newer and challenging branches of Paediatric Medicine. This branch deals with diabetes, growth, puberty, metabolism, thyroid and other hormonal disorders of paediatric age group. She did her subspecialty training in Paediatric Endocrinology from BIRDEM, the largest diabetic, metabolic and endocrine hospital in the country.
She has hands-on experience in managing outdoor, indoor and emergency paediatric patients at Evercare Hospital Dhaka and other reputed hospitals for about 20 years. She is also trained in managing emergency and critically ill neonates.
Before becoming Consultant at Evercare Hospital Dhaka, she served at the same institute for last 10 years in the department of Paediatrics & Neonatology in different capacities namely Registrar, Senior Registrar, Specialist and Associate Consultant.