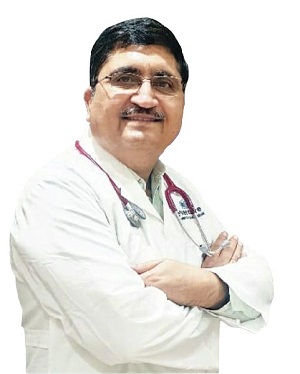 Dr. Sandeep Dhavan, MBBS,MD (Medicine), DM (Gastroenterology) (PGIMER-Chandigarh, India)
Senior Consultant
Department: Gastroenterology & Hepatology
Dr. Dhavan has pursued MD (Medicine) from Dayanand Medical College and Hospital, Ludhiana, Punjab in 1992 and DM (Gastroenterology) from Post-Graduate Institute of Medical Education and Research, Chandigarh, India in 1996.
Dr. Dhavan has 2 years Training in Department of Hepatology PGI, Chandigarh, India. One year Post DM resident Department of Gastroenterology PGI Chandigarh, Faculty Department of Gastroenterology PGI Chandigarh for three years till 2000 and Head of the Department of Gastroenterology Chuttani Medical Center, Chandigarh for last 16 years.
He has performed more than 70,000 endoscopic procedures including ERCP'S
He has over 25 years of experience in Interventional and Therapeutic Gastroenterology.
He is trained to treat all acute and chronic Liver and Gastrointestinal Diseases including Fatty Liver, IBD, Hepatitis B and C, Cirrhosis and GI Cancers.
Dr. Dhavan is President of Gastroenterology and Liver Forum, Chandigarh, Treasurer Indian Society of Gastroenterology Chandigarh chapter, Ex-President Indian Medical Association Chandigarh and Founder Trustee of Medicos Legal Action Group.