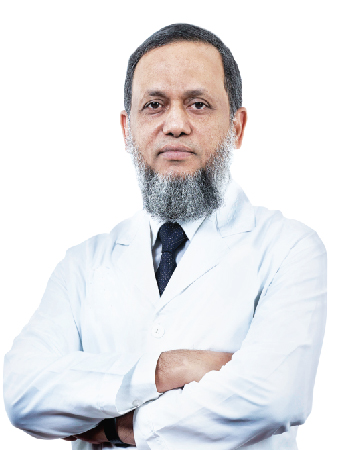 Dr. Abu Jafar Mohammed Saleh, MBBS, FCPS (Hematology) Hematology & Stem Cell Transplant
Senior Consultant & Coordinator
Department: Hematology & BMT Center
Dr. Abu Jafar Mohammed Saleh obtained his MBBS from Sher-e-Bangla Medical College. He worked at multiple healthcare institutions including Dhaka Medical College, Sir Salimullah Medical College and Bangabandhu Sheikh Mujib Medical University.
He obtained his FCPS in Haematology from Bangladesh College of Physicians and Surgeons (BCPS).
He spent 9 years at the world-renowned King Faisal Specialist Hospital & Research Centre in the Kingdom of Saudi Arabia, as an Assistant Consultant in the department of Adult Haematology/HSCT.
He is a specialist in benign and malignant haematology cases, and has performed over 800 allogeneic and autologous stem cell transplants.