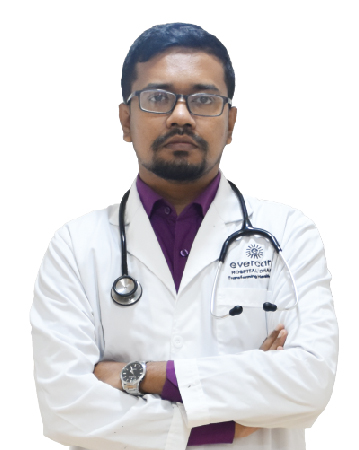 Dr. Kamrul Hasan, MBBS, FCPS (Hematology)
Attending Consultant
Department: Hematology & BMT Center
• Dr. Md. Kamrul Hassan passed MBBS from Dhaka Medical College and completed FCPS (Hematology) from Bangladesh College of Physician and Surgeons (BCPS).
• Since 2022 he has been working as hematologist in Evercare Hospital Dhaka. He was a visiting consultant in Ahsania Mission Cancer & General Hopital, Uttara, Dhaka. Besides, he had working experiences in the department of Hematology of both Dhaka Medical College and Bangabandhu Sheikh Mujib Medical university (BSMMU).
• He is treating successfully both benign ( Thalassaemia, ITP & other bleeding disorders) and malignant (leukemia, lymphoma, multiple myeloma, CML, MDS) hematological disorders. Moreover he is an active member of Bone Marrow Transplant (BMT) team of Evercare Hospital Dhaka, pioneer BMT center in Bangladesh.