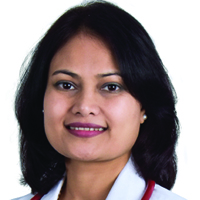 Dr. Tahera Nazrin, MBBS (SSMC), DCH (BICH), FCPS (Paed)
Senior Consultant & Coordinator
Department: Paediatric Cardiology
Dr. Tahera Nazrin is a Paediatric Cardiologist who was endowed with fellowships in Clinical & Interventional Paediatric Cardiology from Narayana Hrudayalaya Hospital at Bangalore, Rabindranath Tagore Institute of Cardiac Sciences (RTIICS) at Kolkata and Narayana Multispeciality Hospital, Jaipur in India.
She also obtained advanced fellowship from National University Hospital (NUH), Singapore in Paediatric Cardiology.
She is an expert in the field of Interventional Paediatric Cardiology including device closure of holes in hearts (ASD, VSD & PDA), coil embolization of MAPCAs, temporary pacemaker implantation, balloon pulmonary valvuloplasty (BPV), balloon aortic valvuloplasty (BAV), coarctoplasty, balloon atrial septostomy (BAS),diagnostic catheterization and oximetry.
She is highly skilled in 2D,3D & colour doppler echocardiography (TTE, TEE & foetal), management of preoperative & postoperative children with heart diseases, Kawasaki disease, Marfan syndrome, Rheumatic carditis and arrhythmia patients, holter monitoring and ICU care.
She was the Clinical & Interventional Paediatric Cardiologist at IBN Sina Cardiac Center and thereafter at Ibrahim Cardiac Hospital & Research Institute (ICHRI) as Assistant Professor in Cardiology department.
She has many publications and she has been participating in National and International seminars and workshops in the Clinical and Interventional field of Paediatric Cardiology.
She graduated from Sir Salimullah Medical College & Mitford Hospital.
She obtained her post-graduation FCPS (Fellow of College of Physicians and Surgeons-Bangladesh) and Diploma in Child Health (from BICH) in Paediatrics.
Her post-graduation training was in Dhaka Shishu Hospital and Bangabandhu Sheikh Mujib Medical University (BSMMU).