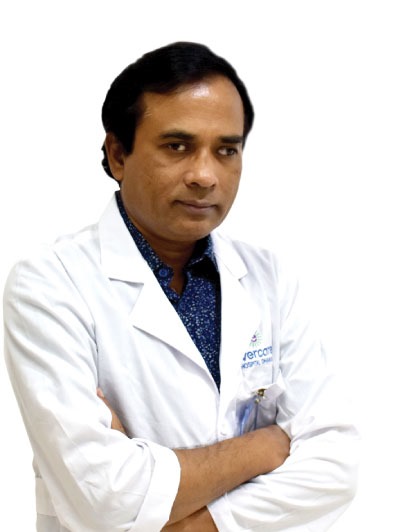 Professor Dr. Md. Atahar Ali , MBBS, FCPS (Internal Medicine), MD (Cardiology) Senior Consultant — Cardiac Electrophysiology, Heart Failure & Interventional Cardiology, Electrophysiologist & Interventional Cardiologist
Senior Consultant
Department: Cardiology
• Prof. Dr. Md. Atahar All completed his MBBS in 1984. After completing his FCPS in Internal Medicine, he obtained his MD in Cardiology in 1998. His professional career is also decorated with degrees like FACC, FRCP (UK), FHRS & FAPSC etc.
• Profoundly experienced Dr. Md. Atahar Ali got his Fellowship in Electrophysiology & Cardiac Pacing from Escorts Heart Institute, New Delhi, India. He also completed his Fellowship in Cardiac Electrophysiology from Al IMS, Kerala, India. Not only this, but also he is an expert and certified professional from Switzerland to perform CRT.
• Prof. Dr. Md. Atahar Ali is a member of some of the renowned medical societies and clinical bodies from all around the world. He was awarded fellowship from Heart Rhythm Socity (USA), American College of Cardiology and Royal College of Physician and Surgeon, Edinburgh, UK. He is also designated as the Secretary General of Bangladesh Heart Rhythm Society.
• In professional arena, Prof. Dr. Md. Atahar Ali participated in numerous number of medical programs and events in different countries of the world. He has got more than 100 publications in some of the renowned medical journals.
• Since 2004, he has been working in Arrhythmia and Heart Failure Services Department. He is very much expert in Arrhythmia ablation, Pacemaker, CRT, ICD implantation.
• Before joining to Evercare Hospital Dhaka, he was working as a Professor of Cardiology. His field of interest was Arrhythmia and Heart Failure Management.